I can't think anything now, really !
* stopped for quite a plenty minutes *
Back to topic.
Well we are having school holidays for almost 1 week now.
I don't know whether i should use my holiday time wisely to study or just relax myself
Finally i choose both of them


Relax sambil belajar. LOL !
Ala, just don't give myself too much pressure and try to concentrate on studies.
Currently doing revision for Biology and i feel i become more hardworking ?

* bull-shit larh oit ! *
Our beloved tuition teacher, Dr.Fong said,
" Don't care about those monthly tests, relax and enjoy your holiday time now. You all wanna suffer ? I swear i'll let you all suffer after that
* evil smile *
. "
Last few days ago was our very first anniversary

♥
Heh ! Heh ! HEHHHH ! xD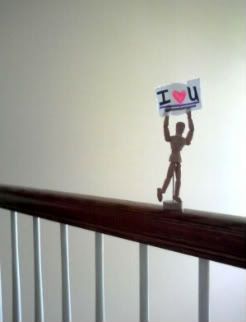 Tomorrow going to gathering with all my cheer leading girls ! xD
Really can't wait for it.
Oh yea, all must rmb bring along the camera, charge the battery cukup-cukup !
Time to bed and ciaos peeps :)