24 April 2009

It was Friday !I always love Friday !When having Chinese lesson in classThe " A1 " student in my class, Mr. Chu Liang, kept jokingHe made everyone in the class laughed like hell, even teacher

Mr. Chu Liang

Teacher

Others

" 猜一个成语( draw 4 circles on the white board ) "" 老师我知道, 四粒圆圈! "LOL四粒圆圈是成语来的meh ?!" 老师, 屈原有女朋友吗? "" 我不知道 "" 老师, 你知道屈原的弟弟是谁吗? "" huh ? "" 屈四方形! "屈原( 圆) All of us laughed again " 做么你酱多问题的? "" 哪里有 ?! "" 老师, 这个叫不耻下问 "" 赶他出去啦老师! "He talked a lots, but i couldn't rmbMaybe all of you won't laughing But if you see his expression and the way he talkedSure laugh like hellHahas !xDSkipped Physic lesson today againOur teacher really doesn't how to teachI feel lucky because i gt go for tuition

All of us went to class 4L because their class didn't have any teacher

Their class at the new block, Block M

Classroom is bigger than our classroom, hotter than our classroom too

Hahas !

QM meeting after schoolDiscussed about our carnivalBusy for the preparation of carnival soon, guess so ..After meeting, went to foyer with Adeline, Jwen and Ah KuikJwen and Ah Kuik taught daibolo at the foyerPlayed daibolo at the foyer, just simply playLearned before, but it was long time ago7 years ago i think ?Hahas !Jwen and Ah Kuik damn pro Big clap for them Woohooooo ~I met Swee Ee and Dixon when i was for the busGave them a big

smile

before i get into the busI smiled from ear to earTmr is Mr.Kang birthdayOmg ! What should i do ?!
Should i accept my Yuh Jiun's opinion ?
Call him and wish him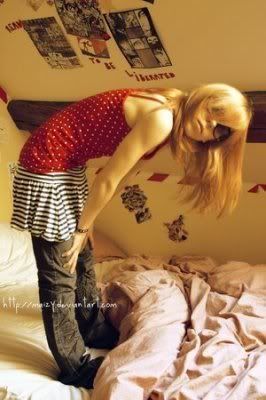 God Bless !